Fall Burlap Give Thanks Pillow Cover Tutorial
Learn how to make a custom burlap pillow cover, including instructions on how to print on burlap. You'll love this easy project!
Hello, Ideas for the Home by Kenarry® friends! I'm Pam from The Birch Cottage and I'm back to share another DIY project with you. November is a special time for most families here in the U.S. where we all, hopefully, pause for a moment to reflect on all the many blessings in our lives and truly give thanks. In keeping with the "give thanks" theme, I thought I'd share my Fall Burlap Give Thanks Pillow Cover Tutorial with you this month.
For quite some time now, I have been seeing all these great projects where people were printing on burlap and until this month, I had never even given it a try. It's just one of those "round-to" things that I never seemed to get around to – until now. I am almost ashamed to tell you that I hadn't tried this before because it is so simply, ridiculously easy! So, this month's project is a two-for-one. As I'm actually going to share with you not only how to make an envelope style pillow cover, but also how to print on burlap.
Seriously, this is an easy project. You'll just want to slap yourself for not trying it sooner! I got the inspiration for my Burlap Give Thanks Pillow Cover Tutorial from two places. First, was Pottery Barn's Watercolor Painted Pumpkin Patch Lumbar Pillow Cover. But, my real inspiration came from DIY Beautify, who was so gracious enough to share an easy to follow tutorial on how to print on burlap. When I saw the below vintage pumpkin image from the Graphics Fairy, I knew I had to give printing burlap a try!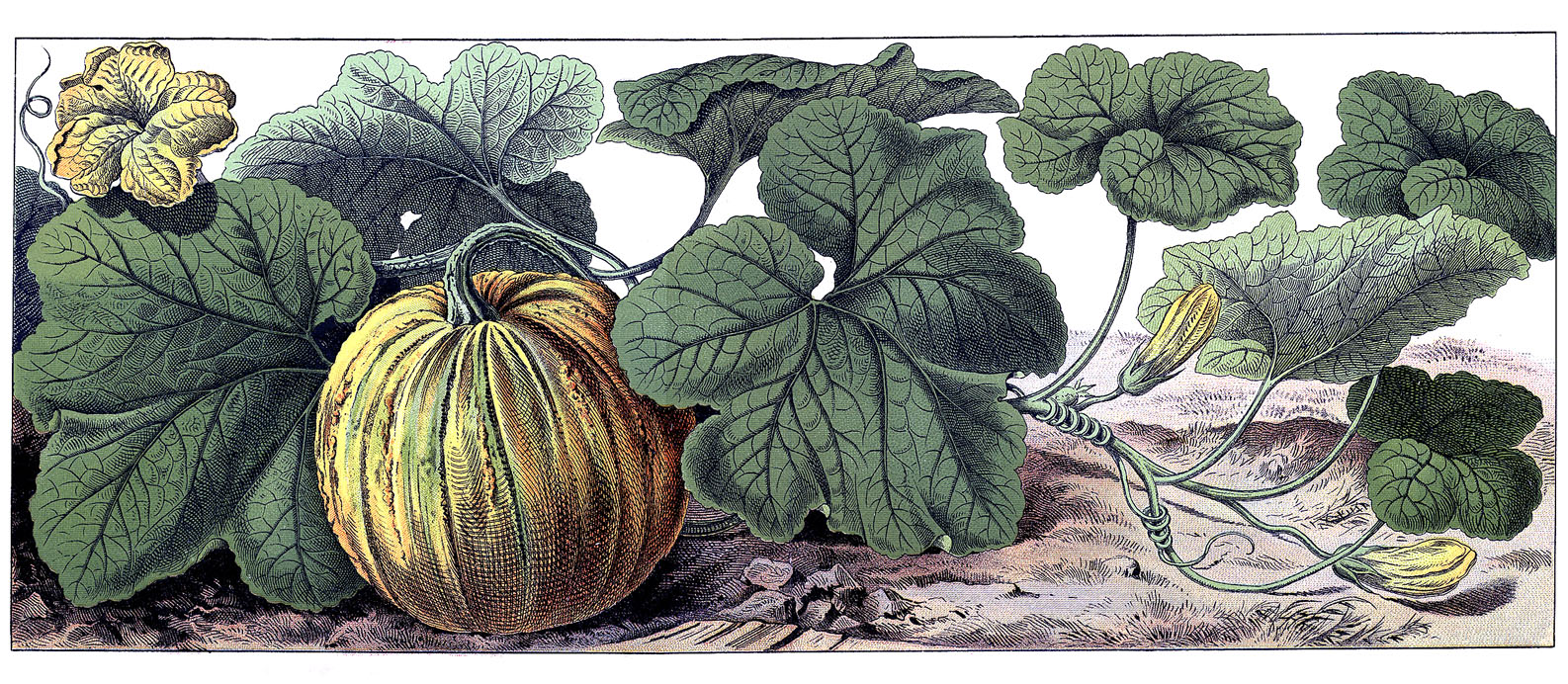 And now that I've tried it, I just couldn't wait to share it with you! First, let's look at how to print on burlap.
How to Print on Burlap
Get our e-book The Ultimate Guide to Making a Burlap Wreath plus a special limited time offer for 25% off Kenarry burlap ribbon when you subscribe to be an Idea Insider. It's totally FREE!
You're already signed up! YAY! As an Idea Insider you have instant access to our Kenarry Idea Insider Resource Library with exclusive printables, offers and other freebies as soon as you confirm your subscription.
Your privacy is important to us. We promise not to spam you or share your information. You can opt-out at any time. See our privacy policy for more information.
---
Burlap Print Supplies:
Burlap
Reynolds Freezer Paper
Scissors
Iron
Inkjet Printer
Instructions:
Simply take a piece of burlap and cut a little larger than you're finished piece (for my lumbar pillow cover, I cut my burlap about 10″ x 16″).
Tear off a piece of freezer paper to fit your cut burlap.
Lay the burlap down on your ironing board and then lay the freezer paper, wax side down, on top of the burlap.
Iron with your iron on the hot setting, being sure to press the corners. It only takes a few seconds if your iron is nice and hot. Once the freezer paper appears to be adhered to the burlap, you're finished with the ironing.
Cut your burlap (with the freeze paper attached) down to your printed size (8-1/2 x 11 inches or 8-1/2 x 14 inches).
Now you're ready to print. Follow the applicable directions for printing with your particular printer, being sure to print on the burlap side.
Done! Finished! Easy peasy!
How to Sew a Pillow Cover
Pillow Cover Supplies:
Material for pillow cover (I used about 1/4 yard of muslin)
Matching or coordinating thread for burlap
Matching or coordinating thread for pillow cover
Instructions:
The Front of the Pillow Cover
Like I said, this really is an easy project. For the next step, I made my pillow cover. I simply used the measurements from the pillow form and added 1/2″ for seam allowances for the front of the pillow cover. Then I cut out a piece of fabric that was 13″ x 24″.
I centered my print on the front of my fabric and top-stitched around the edge of the burlap.
The Back of the Pillow Cover
I also wanted the pillow to be an envelope style as I didn't want to mess with inserting a zipper, so I cut one piece that was 13″ x 18-1/2″ and one piece that was 13″ x 9-1/2″. I sewed a narrow 1/4″ hem along the short end of each piece. Then laid the front piece face up, laid the longer piece face down on top of the front, and the shorter piece face down on top of the longer and the front. (The two back pieces should now be overlapping by 3″.) Then I simply sewed a 1/2″ seam around the entire edge of the pillow cover, turned the pillow cover inside-out, inserted my pillow form and done!
If you've been wanting to give printing on burlap a try, but were a little reluctant like I was, you really should try it with this Fall Burlap Give Thanks Pillow cover tutorial. The next thing you know, you'll be printing all kinds of things on burlap!
Before you know it, December will be here and I'll be back sharing another project with you! In the meantime, you might enjoy one of these projects:
Chocolate Chip Pumpkin Pudding Cookies
And, since it is November, we can't help but start thinking about Christmas and this collection of Christmas printables is just the thing to jump start your Christmas planning.
Collection of Christmas Printables
Love the ideas you see here on Ideas for the Home by Kenarry®? Subscribe today to get our weekly Ideas in Your Inbox newsletter plus other exclusive gifts and offers — all for FREE!
What's Next?
While you're here, be sure to check out other craft projects on Ideas for the Home by Kenarry® –