Make A No-Sew Burlap Pillow Wrap Using Burlap Ribbon
Learn how to make this burlap pillow wrap from burlap ribbon! This burlap pillow wrap is an easy no-sew project to dress up your throw pillows for fall.
Learn how to make this super easy no-sew burlap pillow wrap using burlap ribbon. Hello, dear Kenarry readers, I'm Pam from The Birch Cottage, and I'm back again this month sharing another burlap ribbon project with you!
I love October. It's probably my favorite month. And it's definitely the perfect time to add a little warmth to your home décor with burlap! Plus, if you've been following and crafting along this past summer with all the burlap ribbon projects I've been sharing here on Kenarry, like these adorable utensil holders, coasters or even these loopy burlap flowers, then this burlap pillow wrap will help tie all those little burlap touches together!
Disclosure: This blog post contains affiliate links for products or services we think you'll like. This means if you make a purchase from one of these links, Ideas for the Home by Kenarry® will make a small commission at no additional cost to you so we can keep the great ideas for the home coming your way. All opinions expressed are derived from personal experience.
This is probably the easiest project ever. Seriously! I know I say that a lot, but this burlap pillow wrap really is THE easiest project ever. You can make this burlap pillow wrap using four simple elements: pillow, burlap ribbon, glue and scissors. Of course, you can embellish your burlap pillow wrap using paint, iron-on transfer, vinyl, stencils, lace, ribbon or coordinating fabric.
I think this burlap pillow wrap adds not only the perfect rustic touch with the texture, but also has a little farmhouse cottage style. But, before we get carried away with all the design options, let's get back to basics and learn how to make this rustic, warm burlap pillow wrap.
Burlap Pillow Wrap

Supplies:
Instructions:
1. Wrap the burlap ribbon around your pillow form, pulling as snug as you prefer. This is so that you can determine where to cut your burlap ribbon.
2. Cut the burlap ribbon, allowing ½" on each short end.
3. Fold each short end of the burlap ribbon under ½" and press.
4. Apply tacky glue to the right side of one end of the burlap ribbon.
5. Lay the other end on top of the glued end (wrong side on top of right side), so that your ribbon now makes an entire loop.
6. Allow about 20 minutes for the glue to completely dry.
7. Insert pillow form into the burlap wrap.
Optional Sewing Instructions
1. Follow steps 1 and 2 above.
2. With right sides together, stitch a ½" seam along the short ends of the burlap ribbon.
3. Press seam open.
4. Optional: Apply tacky glue to the sewn edges of the burlap to keep from fraying. Be sure to allow time for the glue to dry before continuing on to the next step.
5. Turn ribbon right side out and insert pillow form into the burlap wrap.
Easy DIY project, right?! I told you it would be!
An Embellished Burlap Wrap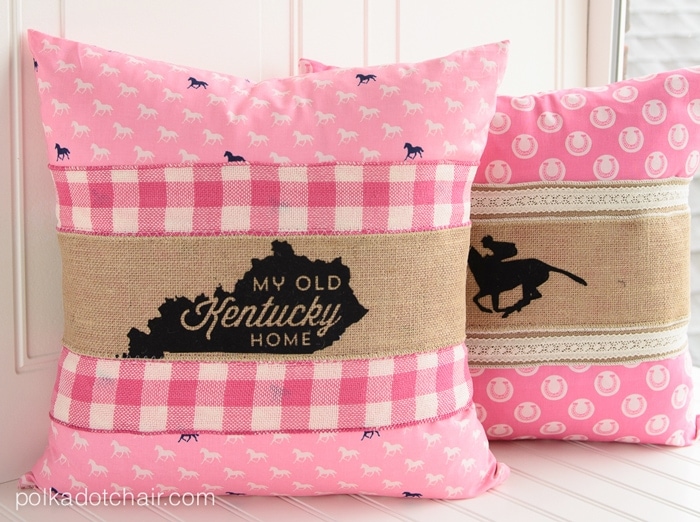 If you'd like to get a little more adventurous with your burlap pillow wrap, Melissa from Polka Dot Chair shares how to not only make a burlap pillow wrap, but how to embellish it using your Cricut machine to make a Kentucky Derby themed stencil.
How to Print on Burlap
If you'd like to learn more about how to print on burlap, be sure to read my tutorial right here on Ideas for the Home by Kenarry®. No heat transfer paper needed with this method. All you need is your design, a printer and some freezer paper. (This printed burlap pillow tutorial uses a freezer paper transfer as well.)
I do think this burlap pillow wrap will add a nice rustic texture to your home décor and it pairs really well with not only the other burlap projects I've shared here on Kenarry, but also those fabulous burlap wreaths that Carrie is famous for. With all this burlap goodness, you can add a little rustic glam to every room in your home!
Did you notice I took pictures of my burlap pillow wrap outdoors? There's a reason for that! We are in the middle of a home renovation and there isn't really a place in the house that isn't covered with dust, drop cloths, power tools and more dust. I feel like I should be apologizing, but so goes life, right?! When I get my house back in order, I'll try to remember to update these photos, but I think they still get the point across, right? I sure hope so!
Anyway, if you make this burlap pillow wrap, we'd love to see your project! Just share a photo on social media using #ideasforthehome so we'll be sure to see your fantastic burlap pillow wrap! And, be sure to check out some of my DIY projects on The Birch Cottage blog, like:
Crochet Crunchy Stitch Dishcloth
Love the ideas you see here on Ideas for the Home by Kenarry®? Subscribe today to get our weekly Ideas in Your Inbox newsletter plus other exclusive gifts and offers — all for FREE!
What's Next?
While you're here, check out these other great pillow projects on Ideas for the Home by Kenarry® –